Preoperative Assessment and Optimisation for Adult Surgery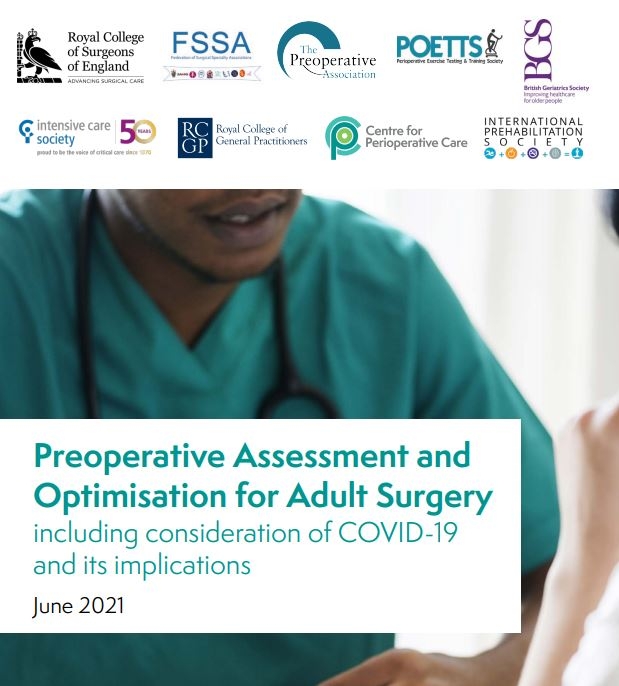 This guidance is intended to be used by primary care, surgeons, anaesthetists, perioperative teams and preoperative assessment (POA) services. It applies to all patients who are being considered for surgery, or are on a waiting list for surgery in the non-emergency setting, irrespective of the magnitude of procedure or the type of anaesthesia contemplated. Its recommendations will support the care of individual patients, the recovery of elective services, and achieving key goals of the NHS Long Term Plan including reducing health inequalities and preventing serious health deterioration.
COVID-19 has had a profound impact both on all of us individually, and also on NHS services. People who have previously had COVID-19 and not fully recovered and those who have deconditioned through reduced activity during lockdowns are both at higher risk of poor postoperative outcomes thank pre-pandemic. Waiting lists for non-urgent procedures will be prolonged for some time. Preoperative assessment must be used as the starting point for a process of optimisation and prehabilitation to ensure each patient attending for surgery is in the best health possible. The notion that waiting lists should be considered 'preparation' lists has never been more apposite.
The guideline contains key recommendations for;
commissioners
NHS X
primary care providers
surgeons, anaesthetists and multidiscilinary teams
preoperative assessment services
| Endorsing Organisations | Supporting Organisations |
| --- | --- |
| British Geriatric Society | Faculty of Intensive Care Medicine |
| Centre for Perioperative Care | Faculty of Pain Medicine |
| Federation of Surgical Specialist Associations | Independent Age |
| Intensive Care Society |   |
| International Prehabilitation Society |   |
| Preoperative Association |   |
| Peri-Operative Exercise Testing and Training Society |   |
| Royal College of Anaesthetists |   |
| Royal College of Surgeons of England |   |
| Royal College of General Practitioners  |   |